Regis Philbin Says Good-Bye to Morning Show After 28 Years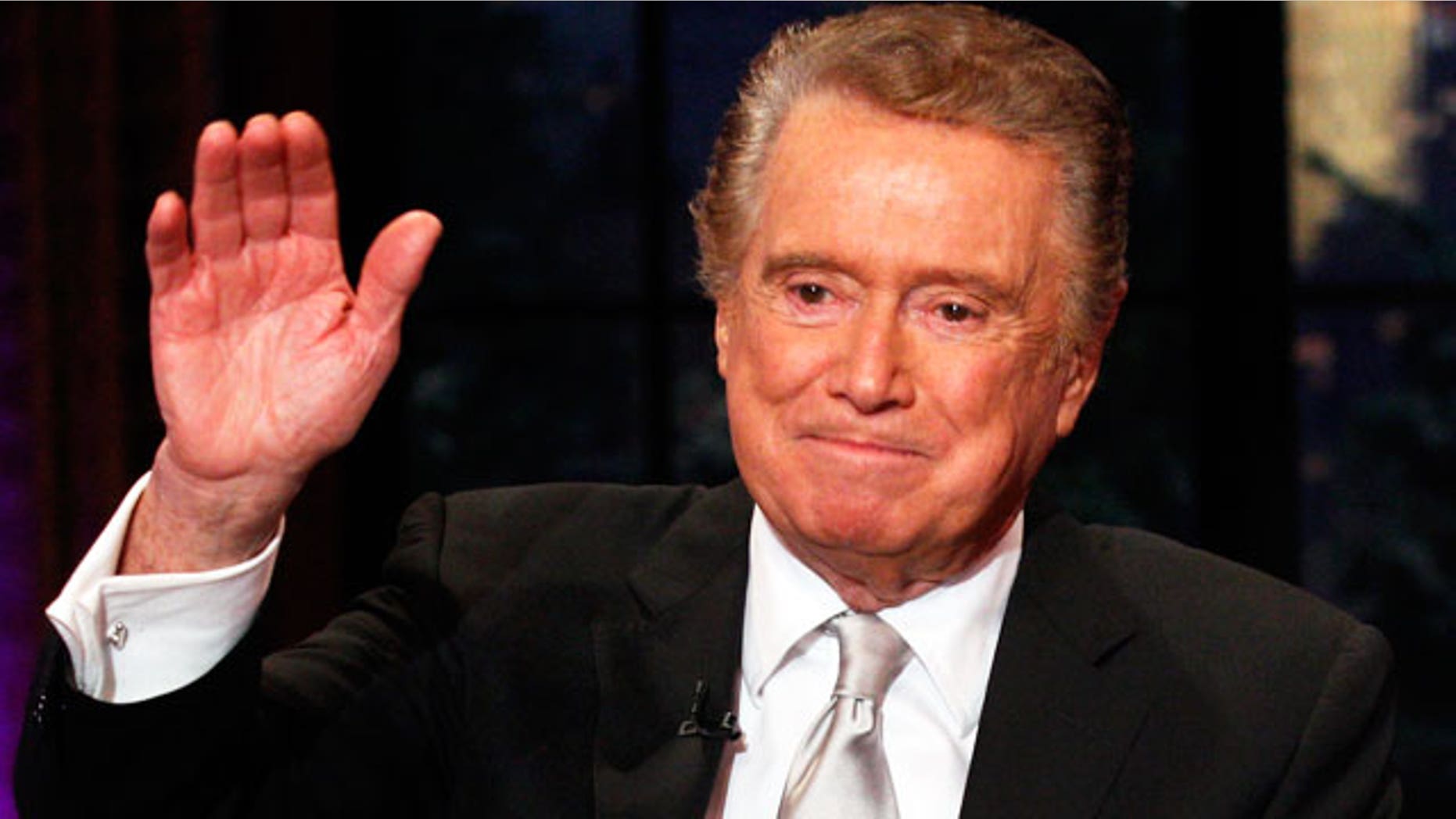 Blowing a kiss to his audience of more than 28 years, Regis Philbin signed off U.S. morning television on Friday, long after setting a world record for the most time on TV.
"I'll always remember spending the mornings with all of you," the show-biz personality said, ending his final appearance as host of "Live! With Regis and Kelly."
Philbin, at 80 years old, has logged more than 17,000 hours on television in a career that dates back to the 1960s. He gained prime-time fame as host of "Who Wants to Be a Millionaire" a decade ago. But his enduring impact was as a morning show host, turning stories about something as simple as a dinner out on the town into compelling viewing.
Philbin was dry-eyed, but co-host Kelly Ripa fought tears as she recalled how terrified she was on her first day as Philbin's partner and how he put her at ease.
"You always want to make me feel like a million bucks, always," she said.
The show opened with cameras following Philbin's walk from his dressing room to the stage, his knocking on Ripa's door and his walking out with her. "I love you," she said quietly as the lights went up.
Ripa's predecessor, Kathie Lee Gifford, was in the audience but had no role in the finale.
The audience was stacked with other celebrities, including Katie Couric, Donald Trump, Alan Alda, Meredith Vieira and Tony Danza. Justin Timberlake, Anne Hathaway and others offered brief filmed tributes.
The show was otherwise devoted to emotion-filled clip sequences of hijinks with Ripa and celebrities like Dana Carvey trying their Regis impersonation. Earlier in the week, David Letterman and U.S. Vice President Joe Biden stopped by to pay respects.
Philbin has been careful to say he's not retiring, and his immediate plans include a tour to promote his new book, "How I Got This Way."
"Where's Regis going?" he said. "Regis doesn't know. Stop asking me!"
The show will continue with Ripa. A succession of co-hosts will join her, some essentially trying out for the permanent job.
New York City Mayor Michael Bloomberg appeared to thank Philbin for making the city a big part of his show, and offered a symbolic key to the city. Walt Disney Co. chief executive Bob Iger showed a plaque honoring Philbin that had been installed on the outside of the building where the show's studio is located.
"I wanted this to be a show where people would feel better about themselves, to look at life in a different way, a funnier way," Philbin said.