Michelle Wolf doubles down on Sarah Sanders insults as journalists defend press secretary
Comedian Michelle Wolf doubled down on her personal attacks on Sarah Sanders during the White House Correspondents' Dinner after several journalists came to the White House press secretary's defense and criticized the comedian's jokes.
Several attendees at Saturday night's annual dinner in Washington, D.C., sat in silence as Wolf launched her attacks on President Trump and members of his administration. Her jokes drew laughs and gasps when she took a jab at Sanders, who was at the dinner as a representative of the Trump administration and sitting just feet away as Wolf commented on Sanders' appearance, criticized her job performance and even her Southern roots.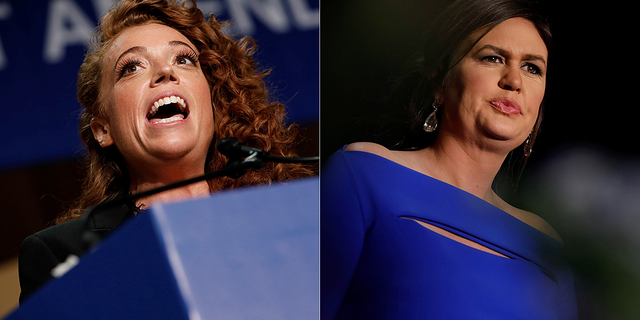 "I have to say I'm a little starstruck," Wolf joked as she compared Sanders to "The Handmaid's Tale" character Aunt Lydia.
"I actually really like Sarah. I think she's very resourceful," Wolf said. "She burns facts and then she uses that ash to create a perfect smoky eye. Maybe she's born with it, maybe it's lies. It's probably lies."
"I'm never really sure what to call Sarah Huckabee Sanders," the comedian continued. "Is it Sarah Sanders? Is it Sarah Huckabee Sanders? Is it Cousin Huckabee? Is it Auntie Huckabee Sanders? Like, what's Uncle Tom but for white women who disappoint other white women?"
Sanders grimaced at the joke, but remained at her seat as she endured the blistering attack.
COMEDIAN MICHELLE WOLF'S JOKES FALL FLAT, OR OFFEND, AT DC DINNER
Several journalists came to Sanders' defense Saturday and Sunday after the Correspondents' Dinner and criticized Wolf — a writer for Comedy Central's "The Daily Show with Trevor Noah" — for attacking the press secretary's looks. The New York Times' Maggie Haberman commended Sanders for absorbing "intense criticism" brought on by Wolf.
"That @PressSec sat and absorbed intense criticism of her physical appearance, her job performance, and so forth, instead of walking out, on national television, was impressive," Haberman tweeted.
"Morning Joe" co-host Mika Brzezinski also called Wolf's jokes on Sanders "deplorable" and said the White House Correspondents' Association owes Sanders an apology.
"Watching a wife and mother be humiliated on national television for her looks is deplorable. I have experienced insults about my appearance from the president. All women have a duty to unite when these attacks happen and the WHCA owes Sarah an apology," Brzezinski said.
She added that she was "hurt for Sarah, her husband and her children."
NBC News' Andrea Mitchell also said Wolf was the "worst since [Don] Imus insulted [the] Clintons" during the 1996 Radio-Television Correspondents Dinner.
Mitchell added, "Apology is owed to @PressSec and others grossly insulted by Michelle Wolf at White House Correspondents Assoc dinner which started with uplifting heartfelt speech by @margarettalev  - comedian was worst since Imus insulted Clinton's"
"It was uncomfortable sitting through the comedian's attacks. But I can't imagine how it must've felt to be on the receiving end of those attacks (not jokes)," Bloomberg's chief Washington correspondent Kevin Cirilli wrote on Twitter. "Highlight for me last night? Hearing about the incredible scholarship winners and the courageous war journalists. #WHCD"
The Associated Press reporter Meg Kinnard also said, "Some of the jokes were funny. Making fun of women for their looks is not. Ever. Under any circumstance. #WHCD"
New York Times' chief White House correspondent Peter Baker tweeted about Wolf's jokes: "Unfortunately, I don't think we advanced the cause of journalism tonight."
"The WHCD was supposed to celebrate the 1st Amendment. Instead they celebrated bullying, vulgarity, and hate. They got all dressed up so they would look nicer when they had a hired gun savagely attack their guests. Do they really wonder why America has no respect for them? Sad!" Former Arkansas Gov. Mike Huckabee, Sanders' father, tweeted.
Wolf defended Sunday her attacks on Sanders, responding to Haberman: "Hey mags! All these jokes were about her despicable behavior. Sounds like you have some thoughts about her looks though?"
The comedian also claimed she was giving Sanders a compliment Saturday night when talking about her makeup.
"Why are you guys making this about Sarah's looks? I said she burns facts and uses the ash to create a *perfect* smoky eye. I complimented her eye makeup and her ingenuity of materials," Wolf tweeted in response to Brzezinski. 
Several people also came to Wolf's defense.
"Regardless of whether you liked Michelle Wolf or not, if you're angrier about the vulgarity from a comedian than you are about the vulgarity from a President, you should take a time out and think about your priorities," tweeted Jesse Ferguson, former Deputy National Press Secretary and senior spokesperson for Hillary Clinton's 2016 presidential campaign.
Samhita Mukhopadhyay, Teen Vogue's executive editor, also said: "This defense of Sarah Huckabee Sanders by prominent women is appalling and misguided. The point of WHCD is to drag the current administration and it's not Michelle Wolf's fault the jokes were a little too on the nose."
Kathy Griffin, who's no stranger to controversy, also found nothing offensive about Wolf's performance.
"Please point us to the tweets where you said something like this about the President of the United States when he was attacking people at rallies and his supporters were laughing...IT WAS A ROAST," she tweeted in response to Politico's Jake Sherman who said "Being mean isn't funny."
Comedian Kumail Nanjiani, star of "The Big Sick," said: "They call you liars. They call Mexicans rapists. They call Muslims murderers. They support white supremacists. But someone calls them out on what they do, & suddenly they're heroes for not walking out."
Trump, who wasn't at the White House Correspondents' Dinner and held a campaign-style rally in Michigan, called Saturday night's event a "big, boring bust." He added the "so-called comedian really 'bombed.'"